Choosing heat-resistant wheels
Refractory or heat-resistant wheels for warehouse trolleys are a separate group of rollers that can be found on mobile equipment in industrial refrigeration systems, pastry shops, drying plants and rotary ovens. Such products are manufactured using a special technology and are designed for intensive use in harsh extreme conditions. The heat resistant wheel maintains its performance over a wide temperature range.
Product advantages and features
Heat-resistant products are characterized by the following features:
full compliance with sanitary standards and fire safety requirements;
resistance to temperature extremes - the rollers retain their qualities in the range from –100 to +600 ° С;
resistance to various aggressive substances contained in detergents and cleaning agents;
high carrying capacity - this characteristic may vary depending on the model, but most wheels can withstand up to 300 kg of weight;
small load on the floor surface. Polymer and phenolic rollers - the best option for shops and warehouses with self-leveling floors, tiles or other coatings that require special handling;
immunity to deformations and various mechanical influences that can lead to damage to products;
ease of care and maintenance;
maintainability - in case of wear, the bearing or the contact surface of the wheel support can be replaced without problems;
immunity to high and critically low temperatures;
long service life due to the use of high quality materials in production;
high-quality adhesion to any type of flooring.
The versatility allows the rollers to be used in almost any operating conditions. Due to the many advantages, availability and reasonable prices, heat-resistant rollers pay off quickly enough.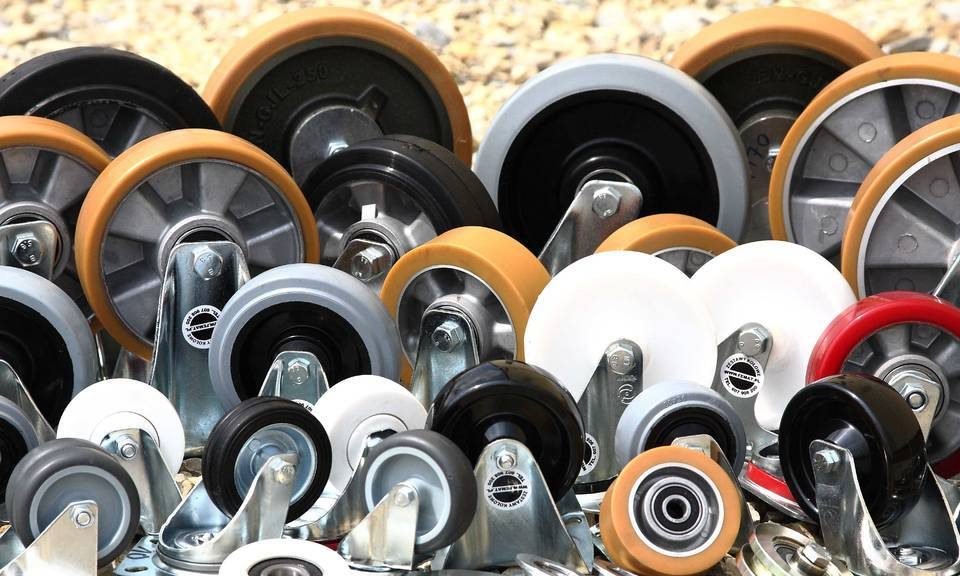 Types of heat-resistant wheels
Depending on the material used for the manufacture, the following types of refractory rollers for trolleys can be distinguished:
Phenolic. They are made of thermoplastic phenolic resin and are characterized by resistance to oils and various aggressive chemical compounds. These rollers are resistant to moisture and are considered one of the best options in terms of price / quality ratio.
Polymeric. High-tech polymer raw materials with special additives are used for production. A special manufacturing technology makes it possible to obtain a product that guarantees a minimum load on the floor covering.
Cast iron. The most wear-resistant and lifting option. Cast iron castors are equipped with a convenient grease nipple.
Aluminum. They retain their characteristics in the range from –50 to +400 degrees. Aluminum products are practically not susceptible to mechanical damage, are cheaper than synthetic counterparts, but during operation they can leave marks on the filling surfaces.
Refractory wheels are available in various modifications. The selection of products is carried out in accordance with the needs of production equipment and mobile equipment. For more details on the characteristics and prices of heat-resistant rollers, please follow the link https://www.fregat.com.ua/termostoykie-kolesa-i-roliki/.

Wheel selection criteria
What to look for and how to choose heat-resistant wheels:
Carrying capacity. It is calculated according to the formula B1 + B2 / N-1, where B1 and B2 are the mass of the transported cargo and trolley, respectively, and N is the number of wheels. It is recommended to take products with a small margin.
Features of the flooring. Wheels with a hard contact layer are more convenient for moving the carts on soft and smooth floors. Resilient tire casters are an excellent choice for rough and hard floors.
Dimensions. For short distances, small rollers with a diameter of 75/100 mm are the best choice. If the technique will be used not only in a bakery / pastry shop or other room where high temperatures prevail, but also outdoors, moving on asphalt, choose models with a size of 250 mm or more.
Material. Polymer and phenolic wheels can be called universal, since they cope with their tasks in almost any conditions. Rubber and cast iron are not the best choices for harsh environments. It is desirable that the bracket is made of galvanized or stainless steel.
When choosing heat-resistant rollers, the first step is to perform a technical analysis of the operating mode. The condition and characteristics of floors, speed and traction methods, maneuverability - all this must be taken into account.