Our history
(logo of FREGAT LLC in 1993)
FREGAT company was founded in 1993 in Dnipro, Ukraine - the industrial heart of the center part of Ukraine. Thanks to the profile scientific activity of the founder and head of the company, the main activity of the company in the unstable 90s was wholesale of large and agricultural tires to Ukrainian consumers. Thanks to the trust established during 90s, many consumers of that time remain our customers at the present time.
With the beginning of the new millennium, in 2000, the company completely renews its composition and field of activity: continuing to work actively in the field of agricultural tires, we are one of the first to start supplying spare parts for heavy-duty mining equipment and dump trucks. Paying more attention to rubber spare parts and general mechanical rubber goods, the Fregat company strengthens its position by supplying "steel" spare parts for BelAZ dump trucks.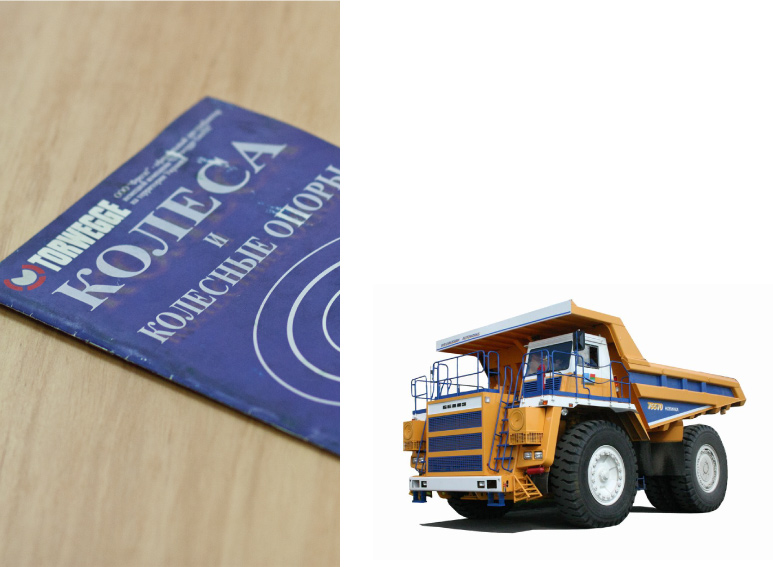 (The first catalog of wheels and castors published in Ukraine by Fregat)
Since 2002, a new direction of the company "FREGAT" - the market of industrial wheels and rollers. Starting with a modest distribution of goods through an Italian company's dealer, in 2004 we became one of the few direct importers of wheels and rollers to Ukraine.
In 2005, our company on its own issued the first Ukrainian specialized Russian-language catalog of wheels and rollers. In 2006, FREGAT became the exclusive partner of the German company Torwegge in Ukraine.

(logo of FREGAT in 2007)
Today, our company is an official and exclusive dealer in Ukraine of one of the leading suppliers of wheels for trolleys and conveyor rollers company Torwegge GmbH (Germany), we also carry out direct deliveries of products from the Officine Meccaniche Omegnesi s.r.l. (TM Ro-Carr - Italy), and we import economy options from the Asian region.
Since 2009, our company has mastered the production of specialized wheels under its own brand name Fregat.
Our products comply with international and Ukrainian quality standards, are subject to standardization and certification, and most importantly - are monitored and selected in accordance with the requests of our regular customers. Deliveries of products to the warehouse are carried out 1-2 times a month, the delivery time of products on order is no more than 2-3 weeks.
A regularly replenished and expandable central warehouse with an area of ​​more than 300 square meters. in Dnipro allows us to quickly respond to emerging demand. Our developed distribution network is always ready to satisfy even the most minimal requests of our customers. In addition, there is always the possibility of supplying: specialized rubber goods, tires for loaders, tires, stacker drive wheels, and it is also possible to repair polyurethane and rubber rolling surfaces.
All these areas of development allow us to occupy a significant market share of industrial wheels.