Trolley wheels: selection options
5+ Features to Consider When Choosing Trolley Wheels
The wheel for the trolley is the most important element of the entire structure, which provides the ability to move equipment across the territory of a warehouse, workshop, car service, production or construction site. That is why increased requirements are imposed on the quality of its performance. The comfort and reliability of equipment operation depends on the technical characteristics of the wheels. The choice of such elements is carried out taking into account the conditions of use and the expected loads.
Features of the classification of wheels for trolley
Depending on the scope of application, several groups of roller bearings are distinguished:
industrial. They are used to equip equipment used at construction sites, food, confectionery, light, woodworking industries, as well as in laboratories;
warehouse. They are used for hydraulic carts (rockers) and other lifting devices;
special purpose. This group includes products used in difficult conditions: at high t (heat-resistant) or low temperature conditions (frost-resistant). In addition, this category includes heavy-duty wheels that can withstand high loads (up to 7 tons per 1 support);
public use. Products included in this group are designed to equip carts that are used by employees of supermarkets and hypermarkets, cleaning companies, medical centers;
household use. They are used to equip various furniture: computer tables, bedside tables, bookcases, etc. In addition, this group includes wheels that are used for garden equipment, wheelbarrows, etc.
The latter category also includes products that are used to complete hospital beds, and equipment used in the restaurant and hotel business.
Depending on the material of manufacture, the following types of trolley wheels are distinguished:
polyurethane. These roller bearings are excellent for moving on tiles, tiles, concrete and cement-resin surfaces. The advantage of polyurethane models is the one-piece construction. They are characterized by increased resistance to mechanical damage (cuts, punctures);
rubber (standard or thermoplastic). These are universal wheels for equipping trolleys that move on asphalt, concrete, compacted soil. In addition, such supports are suitable for industrial self-leveling floors and gratings. Among their advantages are durability, acoustic comfort during operation (they do not make a lot of noise), resistance to aggressive environmental factors, mechanical damage. Rubber models are available in two types of construction: single and double;
polyamide. The material used in the production of wheels has high environmental properties. Due to this feature, equipment used in the food and pharmaceutical industries is equipped with polyurethane products;
pneumatic. The supports are suitable for gratings as well as for moving on asphalt. They easily overcome any obstacles (irregularities) on the road, thereby ensuring good cross-country ability of the trolley. The wheels are silent during operation. At the same time, they have one significant drawback - low resistance to mechanical damage (punctures, cuts).
The material of manufacture determines the operational properties of products: their resistance to wear and tear, endurance in relation to the effects of aggressive environmental factors, permeability, noise level. That is why when buying roller bearings at the link https://www.fregat.com.ua/katalog/ it is important to consider this characteristic among the main ones.
Depending on the load capacity, the wheels are classified into:
lungs. One roller support is capable of withstanding a load of up to 200 kg;
average. Wheel carrying capacity is up to 400 kg;
heavy trucks. One product can withstand a load of up to 1100 kg;
reinforced. The wheel carrying capacity can be up to 7 tons.
Attention! To determine the load that one support can withstand, it is necessary to divide the mass of the moved load (taking into account the weight of the transport equipment) by the number of wheels minus one or two. Why do you need to reduce the number of rollers when calculating? The answer is simple: for insurance. The fact is that one or two wheels can lose traction with the floor when entering a turn, performing other maneuvers (due to movement on an uneven floor covering).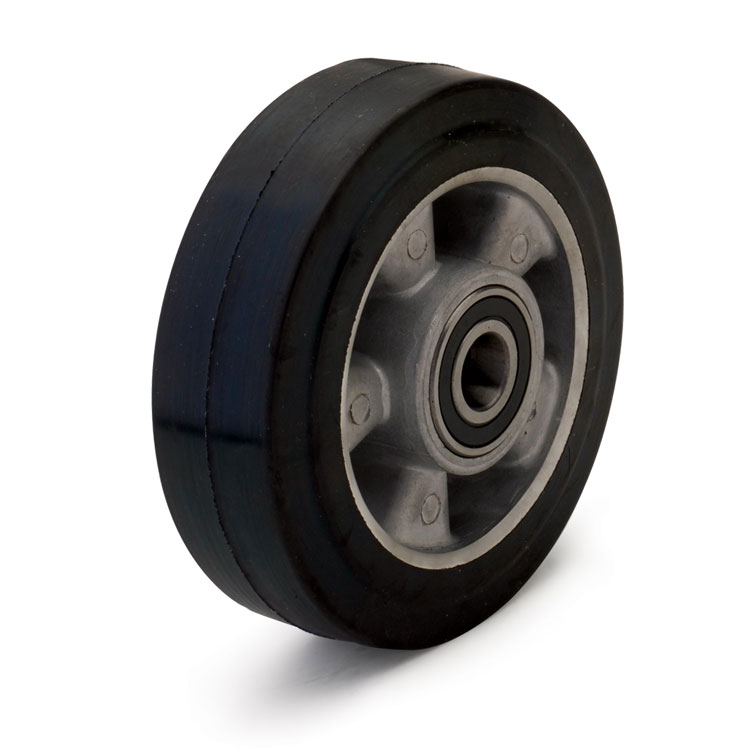 Depending on the temperature range in which the roller bearings retain their operational properties, products are distinguished for:
indoor work. Their operating temperature range is 0 ... + 40 ℃;
indoor and outdoor applications. Used at temperatures from –20 to +80 degrees Celsius;
work in hot shops and freezers. The operating temperature range is –50… + 400 С. This group includes heat-resistant and heat-resistant roller bearings.
The fifth criterion for the classification of wheels is the type of construction. Any roller support is equipped with a bearing that determines the driving performance of the equipment (ease of use, etc.). Depending on this design feature, wheels are distinguished with:
sleeve bearing. Wheels with such an element are not designed for high loads and intensive operation;
roller bearing. Its advantages are high resistance to wear and the ability to withstand heavy loads. Virtually maintenance-free;
ball bearing. Wheels with such an element are designed for difficult operating conditions: in intensive mode, under heavy loads. The ball bearing is considered to be the most durable among other types.
Depending on the features of the fastening, wheels are distinguished with a bracket and without it. The first ones are rotary (provide better mobility and maneuverability of equipment) and non-rotary (guarantee the stability of the equipment). Such products are distinguished by a wide range of applications (food, pharmaceutical, construction, light industry). Swivel roller supports are equipped with a braking device, which ensures safety during the operation of the equipment.
Wheels without a bracket are mainly used for two-wheeled and hydraulic carts.
What to Consider When Ordering Equipment Rollers

Wheels selection features:
performance material;
bearing type;
design features (rotary or non-rotary);
fastening type;
carrying capacity.
All these characteristics determine the operational properties of the roller bearings. That is why, before choosing wheels for equipment, it is necessary to take into account such basic factors as the type of flooring on which the equipment will move, environmental conditions (temperature range, humidity), scope of use. Before buying roller bearings, you should definitely read the recommendations stated by the manufacturer.