Choice of wheels for the trash can: from A to Z
The process of recycling waste and unnecessary things is impossible without trash containers. The use of this cleaning equipment assumes its constant movement, which over time is reflected in the condition of the wheels. Moving elements must be of high quality, adapted to the load and resistant to adverse external influences. What wheels for trash cans are better to choose, read on.
Quantity matters
The main parameters of the purchase are not only the materials of the wheel for the garbage cans - the specialists of our company know how to choose the moving elements in order to ensure the stability of the cleaning equipment. Their recommendation: Consider the design and shape of the container. This will determine the optimal number of wheels. For a round tank, 3 units are enough, for a square one - at least 4. If this point is not taken into account, many difficulties will arise during operation.
Main classification
If you take into account the peculiarities of the operation of containers, it will be easy to make the right choice. There are fixed and swivel wheels for trash cans. The former provide linear movement and stability under static load. Reliable and durable - fixed positions with high-quality steel rim. Please also note that the mounting bracket is made of stainless material. The ideal "match" to the described construction would be a tire made of polyurethane or hard rubber.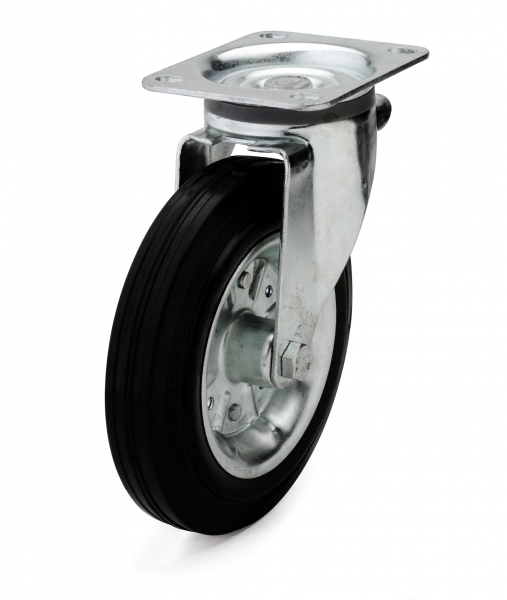 Swivel models are bought when the trash can moves freely. In this case, a high-quality thrust bearing is also important. The rest of the structural elements must be the same as described above.
Parking brake positions are another suitable option. Install them on a structure that stands on an inclined plane, because it is important to take care of its stability in an immovable position. Ball bearings are an important part of these models. They must be reliable, and you also need to take care of regular, timely maintenance.
Useful: when using large diameter wheels, it is easier to move the container, its movement will be smooth.
Modern best option
Steel products are durable, but very heavy; there is a worthy alternative to them - analogs with polypropylene disks and a rubber tire. You can order them from us, having received the help of a specialist.
Advantages of products with polypropylene discs:
ease;
resistance to adverse weather conditions, acids, alkalis and other aggressive substances;
high amortization qualities.
They are designed in such a way that they reduce shock to the bracket, prolonging the equipment life. You can get more detailed information from our specialists by placing an order for the best goods.