Why are tires with a rubber tread good? Description of varieties
User comfort during trolley operation depends on the wheels. They must be reliable, wear resistant and versatile, that is, they must ride normally on any floor covering. The best option, which has these features, is wheels and rollers with a rubber contact layer. In their production, our company uses raw materials of black and blue colors. In both cases, a soft rubber coating is obtained with an indicative resistance to negative influences. These moving elements of the bogies do not lose their original characteristics at medium and even high loads.
Features of positions made of black elastic rubber
These wheels are included in the professional series, do not wear out for many years, and withstand heavy loads. The carts equipped with them are filled with contents weighing from 120 to 670 kg. Possible year-round outdoor operation. The working temperature range of the rollers varies from -20 to +70 degrees.
Black rubber-coated pro wheel bases are made by injection molding. They are ball bearing. High quality aluminum alloy is also used. The rubber contact layer is molded to the base, which makes the structure integral and more reliable. The production also uses vulcanization technology. Thanks to it, products are characterized by low rolling resistance.
How much do reliable and durable black rubber wheels cost? In the company "Fregat" high-quality and elastic rollers can be ordered from 203 hryvnia per unit. The cost depends on the parameters of the products.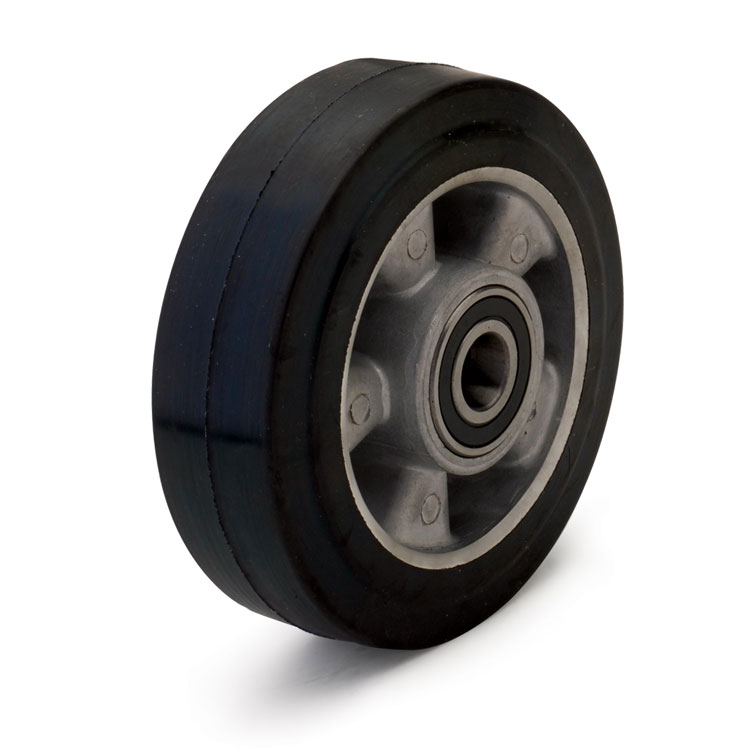 Features of the blue elastic rubber model
"How are these wheels different from the previous ones?" - this is the question that Fregat's clients most often ask when familiarizing themselves with the assortment. The differences can be traced in:
color;
reliability;
price.
Blue wheels with a polypropylene base are several times cheaper than their black counterparts. All because they can withstand a maximum of 350 kg. This is two times less than analogs. The operating temperature range is the same - from -20 to +70 degrees.
Blue rollers and wheels also have low rolling resistance. By vulcanization technology, the rubber contact layer is securely connected to the base. In the production of polypropylene elements, injection molding and black roller bearings are used.
Selection recommendations
This is not to say which rubber tread wheels are better. Both positions are noteworthy, choose them wisely, taking into account the operating conditions. If you do not have to transport heavy loads (more than 350 kg) with the help of warehouse equipment, you can safely order wheels made of elastic blue rubber with a base made of polypropylene. In this case, there is no point in overpaying. When reliability and resistance to heavy loads are important, it is worth buying black casters. You can order any of the presented items from us in the required quantity. Buy from the manufacturer, be sure of the quality of the moving parts for trolleys and do not overpay!