Wheels for bakery equipment are an important part of an efficient business
The technology of baking bakery products in bakeries, bakeries or confectioneries requires the use of dozens of items of special equipment. Most of the devices and mechanisms involved in the bakery process are equipped with wheels adapted to the conditions of this labor-intensive production.
For the proper organization of the work of an enterprise that produces bread and related products, information is needed not only about what ovens and technical means it is worth equipping a baking workshop, but also about what trolleys for bakeries are and what wheel systems should be installed on them.
Varieties of bakery trolleys
The baking process involves the performance of several sequential operations, each of which uses a certain type of mobile equipment. The diameter, type and material of manufacturing wheels for mobile structures depends on the purpose and operating conditions of a particular trolley, wheelbarrow or rack. Enterprises in this industry most often use the following types of transportation mechanisms:
bucket trolleys ("rickshaws") - designed to move bulk or small-piece ingredients inside the workshop. They are a deep stainless steel container with a sloping front wall for easy unloading. A bracket is fixed at the bottom of the bucket, on the axis of which there are two wheels with a diameter of at least 40 cm and a carrying capacity of up to 200 kg each. The back wall of the "rickshaw" is equipped with two supporting elements with PVC handles;
technological trolleys - used to transport milk or fermented milk products (cottage cheese, yoghurt, sourdough). The basis of their design is a rectangular one-piece stainless steel bath with a volume of up to 120 liters. At the bottom of the tank there is a drain system in the form of a pipe with a tap. In the foundation of the bogie there is a supporting frame with four swivel wheel bearings, on which braking devices are installed. For ease of transportation, a strong folding handle is placed from the end of the bath;
floor trolleys - are used to transport boxes installed one on top of the other. The structure of steel sheets is capable of withstanding a load weighing up to 1 ton. Wheelbarrows with such a carrying capacity are equipped with wheels with a diameter of at least 16 cm, made of polyamide, a material with high strength and wear resistance.
Attention! Floor transport trolleys are produced in different modifications, designed to move one or two rows of boxes. Dual models are equipped with six wheels for increased load capacity.
The main requirements for wheel bearings for wheelbarrows and trolleys for transportation are a strong wheel body that can withstand heavy weight and mechanical loads. Good driving characteristics, high maneuverability in confined conditions and the ability of vehicles to overcome small obstacles are also important for mobile structures.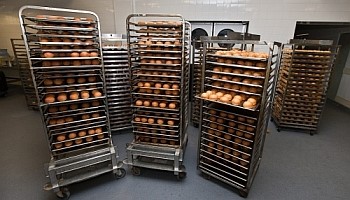 Equipment designed for extreme temperatures
The next category of bakery equipment is racks designed for extreme operating conditions with large temperature differences:
dumplings trolleys - designed for freezing dumplings, dumplings, pancakes, as well as dough and other semi-finished products. The collapsible product frame, made of food grade stainless steel, can simultaneously hold 18 gastronorm containers with products. This structure is moved by means of four swivel wheel supports with a stopper;
Shelving trolleys for trays - strong multi-level racks that can be used for proofing and baking dough products, delivering finished products to the dispensing area or freezing semi-finished products in the refrigerating chamber. The metal base of the trolley is equipped with two pairs of heat-resistant wheels with blockers, ensuring safety and excluding uncontrolled movement of equipment;
Important! Stud carts are made for a specific model of a rotary oven, therefore they do not have standard dimensions and the exact number of levels.
technological racks - made of carbon steel, they are used in rotary kilns at maximum temperature conditions. They can have a collapsible or cast frame, as well as a different number of tiers. The swivel wheels of the rack are made of heat-resistant materials that prevent damage to the baking equipment.
The number of carts and racks required for a bakery depends on the size and capacity of the plant and the types of products it produces. The selection of heat resistant wheels should be based on the characteristics of the ovens used and the baking process technology.
Heat Resistant Wheel Types
Of particular importance in the selection of wheel bearings used at high temperatures is the material of their manufacture. Wheels must not only be able to withstand extreme heat, but must also be certified for handling food and be gentle on the bakery floor. The most common in hot shops are heat-resistant products of the following types:
thermoplastic resin wheels - robust and resistant to wear and aggressive environments, models capable of withstanding over 200 kg and temperatures up to 280 ° C. Phenolic products will not harm even the most delicate surface;
aluminum wheels - designed for use at temperatures up to 400 ° C, well withstand intense loads of any nature. Aluminum can be used on almost all flooring options;
cast iron wheels - designed for a temperature range from -40 to +500 ° C. They have a long service life and have proven themselves well on uneven floors with large differences;
wheels with heat-resistant rubber tires - compatible with any type of coating, can withstand temperatures up to +230 ° C, have good driving characteristics and have a low price.
Wheels made of heat-resistant materials are available with swivel and fixed brackets and can be equipped with various braking systems.
Advantages of castors made of heat-resistant materials
High temperature resistance is not the only benefit of heat-resistant castors. All wheels of this type have several other important advantages for a bakery:
anti-corrosion properties;
large carrying capacity;
resistance to aggressive effects of chemical compounds;
good maneuverability and maneuverability.
The advantages of heat-resistant wheels also include ease of maintenance and long service life.
Purchasing wheel bearings from a trusted manufacturing company will allow you to have no doubt about the accuracy of all parameters specified in the product passport.