Wheels and rollers TM Fregat for hydraulic carts
The most popular lifting equipment - hydraulic carts, the so-called "rokly", are widely used in Ukraine. Moving loads using hydraulic carts and stackers is convenient, easy, and used wherever it is possible and necessary to do without a loader. Simplicity of design and reliability determines their popularity. Only the hydraulic cylinder and rollers with wheels can break in it. Let's talk about wheels and casters.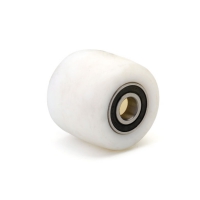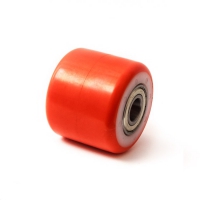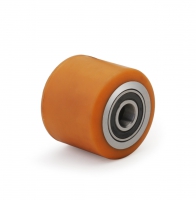 A wide variety of manufacturers of hydraulic carts, their sizes, differences in carrying capacity and floor surfaces have determined several types of rollers and wheels we manufacture. There are rollers made of polyamide(Серия 81), having low rolling resistance, however, during impacts they did not perform well, although they are more suitable for aggressive environments and temperatures (Fig. 1). Some manufacturers coat polyamide with polyurethane (Серия 87),which softens shocks and has high wear resistance (Fig. 2). The most widely used rollers with a metal base coated with polyurethane - Серия 80 (рис.3).They are durable and wear-resistant, they are used on various floors. Paddle wheels are used polyamide, as well as with an aluminum rim, covered with polyurethane or rubber (Fig. 4), in our assortment these are серии 20 and 50.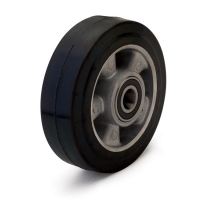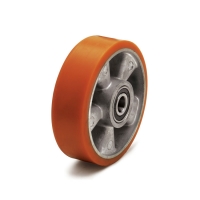 The dimensions of the rollers are characterized by their diameter and width. The most widely used rollers are 80x70 mm, 70x60 mm and others. Paddle wheels, with a diameter of 160 mm, 180 mm, 200 mm.
LLC "Fregat" offers rollers polyamide and polyamide with polyurethane, made in Germany and Italy. We produce polyurethane rollers with a diameter of 80 mm and a width of 50 to 110 mm, as well as a diameter of 70 mm and a width of 40 to 80 mm. At the request of the customer, we can produce a roller of the required size. We also recommend our understeering wheels on aluminum rims coated with polyurethane or rubber, with a diameter of 160 mm, 180 mm and 200 mm. Castors and wheels are produced under the Frigate trademark and our company guarantees their durability and ease of use.
.