Which type of wheels is better
A forklift truck for pallets of a hydraulic type (rocket or rokla) is an important means of mechanization for many warehouses, as well as trade and some other enterprises involved in the handling of goods (for example, small-piece products or packaged bulk building materials) placed on pallets. The use of this technique greatly simplifies the receipt of goods, their storage, delivery to retail space, as well as loading onto vehicles. All this allows you to optimize business processes, as well as increases the safety of employees, providing an opportunity to significantly speed up the processing of goods.
Answering the question of how to choose trolleys for pallet forklifts, it is worth noting that the selection of the optimal model of such equipment depends on a number of different factors, namely:
the size and weight of the cargo to be handled;
daily volume of trade;
the type of surface on which the equipment will be used (determines the need to use certain wheels);
features of the arrangement of the warehouse area.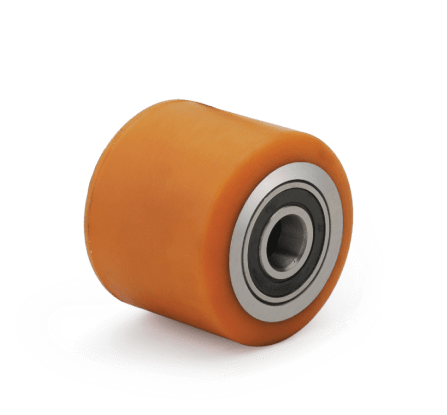 Taking into account all these conditions will allow you to acquire the most optimal equipment.
Types of hydraulic carts
The most demanded today are standard hydraulic rockers, capable of lifting 85-200 millimeters above ground level. Manufacturers offer this equipment in versions with different lifting capacities and fork lengths. This is the best option for working with goods placed on standard warehouse pallets.
In addition, there are such types of hydraulic carts as:
Special. Machines in this category are designed for use on uneven surfaces such as construction sites or farm areas. Depending on its dimensions and other characteristics, it is suitable for transporting both standard and half pallets. In addition, this category of equipment includes low-profile carts and rollers with a body made of galvanized or stainless steel. The latter are suitable for use in difficult conditions, for example, in rooms with constantly high levels of humidity.
Electrical. They require much less operator labor than standard hand pallet trucks. Their drive and fork lifting mechanism are controlled by an electric unit. As a rule, they have increased load-carrying capacity.
High lifting. They are also called foot lift models. The main advantage of using such equipment is to provide more comfortable working conditions for employees of enterprises. Lifting products to great heights, the trolley eliminates the need to bend over to pick up the load.
Weighted. Rocks of this modification are distinguished by the presence of all characteristics typical for standard equipment, except that scales are built into their design. This allows products to be weighed directly during transportation.
Important! When choosing a hydraulic fork carriage (regardless of its type), it is necessary to pay attention to the quality of its assembly, as well as the materials of production. The service life of such equipment largely depends on this.
Selection by pallet size
The dimensions of the pallets processed at the enterprise are one of the most important factors that must be taken into account when selecting the pallets. Pallets with dimensions 800x1200 mm are standard for Ukraine. The same dimensions are typical for most pallets used by manufacturing and logistics companies in the EU. To securely grip them, a cart with a fork length of 54 centimeters is sufficient.
However, companies that accept products from the USA, Finland and countries outside the European Union should take care of purchasing rochel with a fork length of 680 millimeters. The thing is that in the above countries, pallets with dimensions of 1000x1200 mm are standard. Therefore, loaders with small forks are not suitable for moving them.
In addition, several manufacturers offer hydraulic carts with variable platform lengths. This technique is optimal for warehouses that accept goods on pallets of different sizes.
Which type of wheels is better
Wheels are the most important part of the design of any rokhly, since it is the material for their production that depends on:
durability of technology;
ease of use of the trolley on various types of surfaces;
maneuverability, etc.
In addition, this factor determines the noise level during the transportation of goods, which, in the case of using a large number of equipment in closed spaces, plays a rather important role.
Among the main types of wheels, it is worth noting:
Nylon. They are distinguished by high indicators of wear resistance and are perfect for completing trolleys with a large carrying capacity, which are operated on flat surfaces. Prevents spontaneous movement of rooks on smooth floors. Their disadvantage is the high level of noise during the movement of equipment.
Polyurethane. Well suited for equipment intended for use in industrial workshops. Excellent resistance to fats and chemicals, as well as sand and sawdust.
Rubber. This is the quietest type of wheel, characterized by a high level of grip on various types of bases. The main disadvantage is quick failure at high weight loads.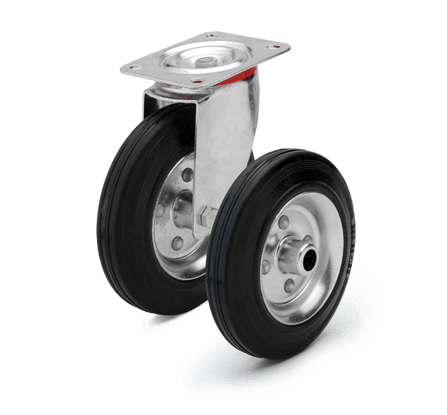 In addition, when choosing a forklift truck, you need to pay attention to the design of the wheels. It can be single or tandem. Rokhli with wheels of the first type are better suited for moving light loads on flat surfaces. Well compatible with standard Euro pallets. Twin (tandem) wheel modifications are capable of withstanding higher loads, including when moving products on uneven surfaces.